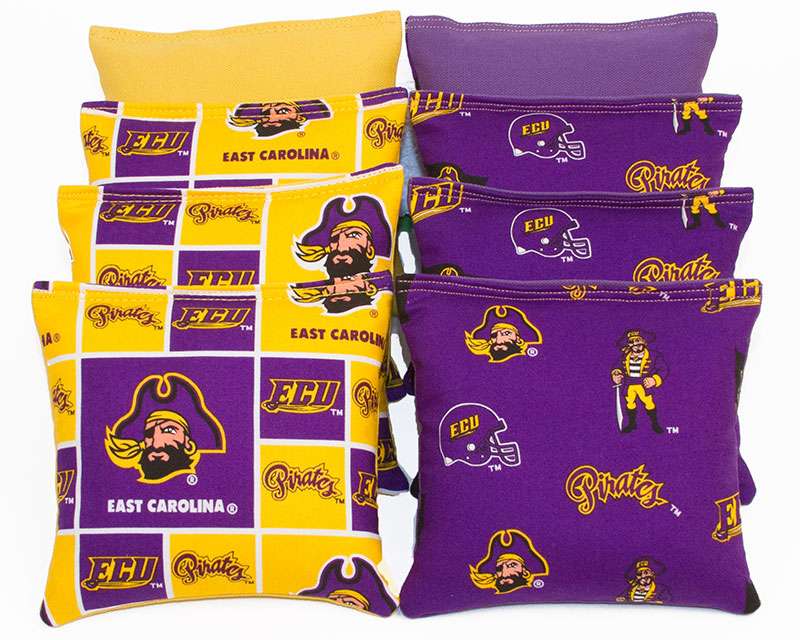 EAST CAROLINA PIRATES - Set of 8 Bags
---
Free shipping all over the US
In stock, ready to ship

Inventory on the way
EAST CAROLINA PIRATES TEAM CORNHOLE BAGS EAST CAROLINA PIRATES TEAM CORNHOLE BAGS - SET OF 8 SET OF 8 TOP QUALITY EAST CAROLINA PIRATES TEAM CORNHOLE BAGS Show your East Carolina Pirates team spirit at your next game day party or tailgate with these handmade, top-quality Cornhole Bean bags. The logo is printed onto the bags for a smooth slide up the board. These are the best East Carolina Pirates Cornhole Bags money can buy. ACA Regulation Size Cornhole Bags. Handmade quality craftsmanship. The NCAA East Carolina Pirates is a college football team that represents East Carolina University. The outfitter for the team is Nike. Before the players enter the field, the poem The Ghost on The Wind plays. After the poem, the Jimi Hendrix song Purple Haze plays while the players run onto the field. Cheer on the Pirates while tailgating at the Dowdy-Ficklen Stadium and make the Pirate proud of you by bagging it up with these team bags. East Carolina University is a public university located in Greenville, North Carolina. The University was established in 1907.  The Father of East Carolina is Thomas Jordan Jarvis, and he was a former Governor of North Carolina.
365 Day Money Back Guarantee:
The package & product will be 
returned
 and 
inspected
 if you choose to get your money back. If product meets requirements customer will receive a full refund for any and all products that were returned and met guarantee policy's.
Guarantee policy; p
roducts must be in acceptable condition, any major damages will void the guarantee. Minor damages will be accepted with fees. Fees will be no greater than $50.
Packaging: Customer must provide replacement packaging suited for the protection of the product. If the customer does not have packaging they are fully responsible to obtain adequate packaging to protect the product. BackYardGamesUSA is not responsible for any purchases related to packaging.
Custom products; if custom products have been used or show signs of wear & tear this will void any right to a refund.
Keep it guarantee:
When accepted, you will get to keep the bonus package, not the entire cornhole set. The 365 day guarantee for the boards still applies see the above text for more information.
Free 5-7 business day shipping! Packages are generally dispatched within 2 days after receipt of payment and are shipped via USPS drop-off without signature.